The End of Chindia?
<!– AddThis Button BEGIN –>
<!– AddThis Button END –>
by Nunziante Mastrolia
ECIA Senior Fellow
CeMiSS - Centro Militare Di Studi Strategici - Quarterly, Year VII, N° 3, Autumn 2009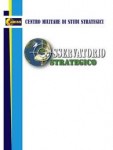 This issue considers political problems in different regions: Middle East, South Eastern Europe, Commonwealth of Independent States, Africa, India-China and European defense initiatives. It discusses the drawbacks of peace process in the Middle East mainly between Israel and Palestine and the dilemmas of the European Union in the Balkan region. Further, it brings out the military exercise in the Caucasus region and the political crisis among the political leaders. It also touches political situation in Gabon and Indo-China border disputes.