USA elections: How the world will change with the new president?
<!– AddThis Button BEGIN –>
<!– AddThis Button END –>
by Alfonso Giordano
ECIA Managing Director
06th November 2008 at Il Denaro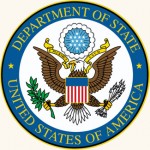 Organisers: ECIA in cooperation with the US Consulate in Naples
How the new elected president of the United States will face to the challenges awaiting for a solution? Which the consequences on foreign politics, international economy, world-wide energetic problems, global change, contrast to the transnational terrorism? ECIA wanted to discuss these topics with, between the others, Mario Del Pero, professor of History of the USA and of USA foreign policy at the University of Bologna and with the Consul of the United States in Naples.
Participants: Michele Affinito, researcher in Political Contemporary History, University of Naples; Francesca Canale Cama, president of the European Federalist Movement, Naples chapter; Mario Del Pero, professor of History of the USA and USA in the World Politics, University of Bologna; Alfonso Giordano, ECIA managing irector; Roberto Race, ECIA communication responsible; Dario Scalella, president of Campania Helicopters and Airplane Industry Network; James P. Theis, US Consul in Italy.